Click this link to buy it:https://bit.ly/3BliHnn
A Brand New Riding Experience
3 switchable riding modes

5-speed assist system

The high precision torque sensor
Conquer all kinds of terrain easily. Whether it be a flat road or a bumpy mountain road, cross any with little effort.
Make riding smarter and more convenient
The powerful 36V 250W motor has 5 different levels of power assistance, great for steep inclines. Even if you are wearing a mask, you won't feel short of breath.
You have three choices: electric mode, cruise control mode, and normal bicycle mode. The intuitive sensor can detect every mode and precisely respond creating a seamless riding experience.
Most Ultimate e-Bike
Comes with an easy-carry body &long battery life.
Break the routine and redefine your smart travel. Your daily commuting has never been so easy. The new appearance meets fashionable colors. The magnesium alloy makes the weight of the fuselage lighter and can be easily folded and taken on the subway or bus. The overall streamlined design is
25% less obstructed than ordinary e-Bikes after wind simulation tests
.
350W Powerful High-speed Motor

Upgraded from the first-gen 250W motor, the new 350W high speed geared brushless motor has enough pulling power to help you effortlessly conquer a 30° incline. Brushless motors are smoother, more efficient, and generate no magnetic drag when riding the bike without any power.
* For local laws and regulations while the EU、UK version is still 250W motor
5-Level Assistance
Naicisports X1's 5-speed electric power assist automatically controls the output based on your pedaling. Raising the gear allows you to ride long distances as easily as pie, and helps you ride up slopes more easily.
High Precision Torque Sensor
When you don't need extra power the torque sensor will understand due to the force you are applying to the pedals. The motor won't waste any extra battery when it's not needed, making it a more efficient power system.
Torque sensors will give you the exact cycling experience you want, creating the feeling that you have stronger legs than you actually do. They create that bionic-leg sensation.
Removable & Upgradable

Meets All of Your Needs
The standard body battery can travel up to 52miles/85km, and you can travel an additional 31miles/50km with the add-on battery. Combining these two batteries lets you travel up to 84miles/135km, which surpasses the maximum distance of most current eBikes.

The batteries are compatible with long distances, so there is no need to worry about running out of power too soon. We hope that by using these bottled batteries, you can extend the amount of time you have for various activities, and also enjoy your usual cycling.

* Extra batteries are not included in the standard perk. If you would like one, simply add it when you claim a perk.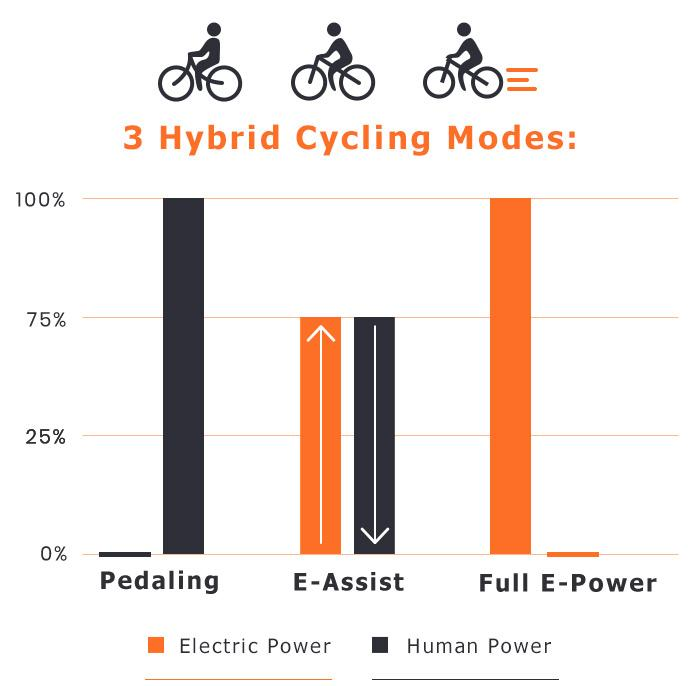 In E-assist mode, you can reach a top speed of 15.5miles/25km in one hour, allowing you to climb hills effortlessly or simply reach your destination more quickly. In countries that allow it, you can increase the top speed to 18miles/30km in one hour with a simple setting.
Advanced Battery System
One charge will last longer & go faster than you can imagine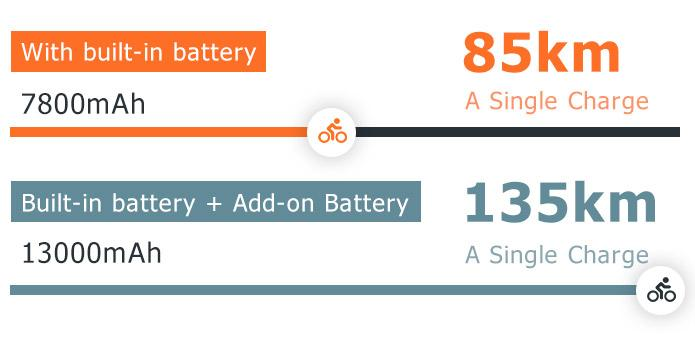 Example of riding distance per charger
The new generation of secondary batteries is smaller and lighter, with a service life of more than five years. And, the endurance is 3 times that of lead-acid batteries, helping you ride even farther.
84miles/135km of Adventure on a Single Charge
You can take detours to various places by bicycle. When cycling 84miles/135km, you can go faster than ever
The Ideal Companion for Commuting & Travel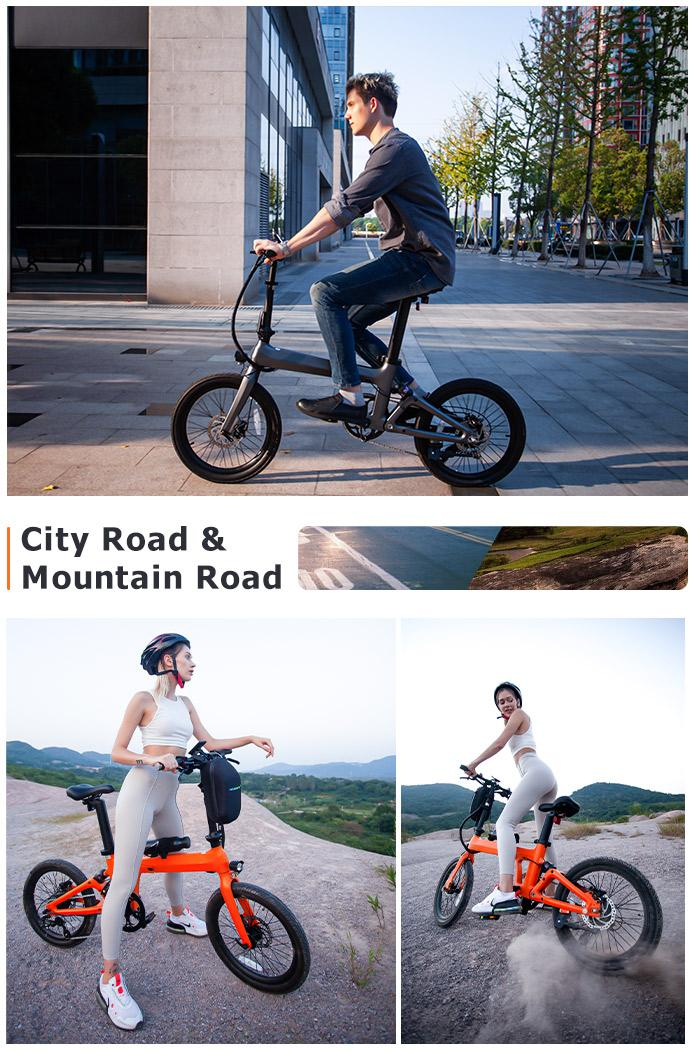 Charging Once A Week
Enjoy The Effortless Commute
When charging the main battery, you can pull out the saddle and carry only the saddle. Even if there is no socket at the bicycle parking place, you do not need to bring your bicycle into the room. It is also very convenient to carry, plug in the data cable, and it will be completed in 3~4 hours.
The bike also comes with a USB charging port on the dashboard, so you can charge your phone and place it in the front bag while it charges.
Also comes with an automatic power-off function, that can be set with a power-off delay of 3-5 seconds.
A Smarter Controller
The controller has a variety of protection functions, including stall protection, over current, over-temperature, over-voltage, under-voltage, speed, and equal insufficiency to protect the safety of the vehicle's electronic control system. These protections help to achieve a smooth start to the vehicle and it is always consistent with the pedal action to achieve the effect of torque boost.
Make Riding More
Comfortable & Safer
The tire size has been increased to 20 x 2.125cm. By increasing the surface area of the tire, increases the amount of contact with the ground and improves the grip and anti-slip properties.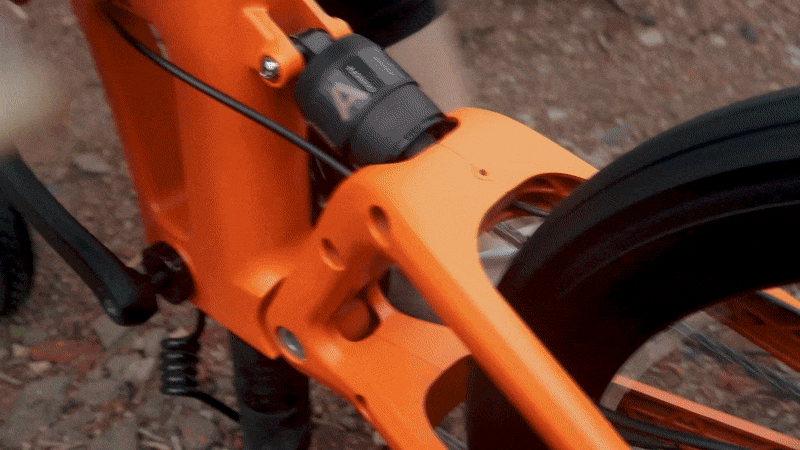 An ultra-lateral shock absorption system allows you to ride smoothly anywhere.
Foldable & Portable
Despite being an electric bicycle, the body only weighs 17.5kg. It is easy to load into a car, and if you carry it with you during your travels, you can easily leave the city and take it to your favorite cycling spots.
The folding process is very simple, just pull the lever! No tools are required. After getting used to it, folding can be completed in about 10 seconds!
Safety - Our No.1 Priority
Most bicycle accidents happen at night. In order to ensure your safety, the Naicisports X1 is equipped with both front and rear lights, and the lighting distance can be reached 20 meters. By checking the road conditions ahead and alerting other vehicles of your presence, we can help prevent accidents.
The LCD display is also connected to the valve stem with a simple and stylish design. With a large and clear character display, you can easily check the current speed with the speedometer.
Due to the large number of people and vehicles in the city, reliable brake performance is essential for safe and comfortable travel. The Naicisports X1 uses disc brakes*, which are also used in cars, on the front and rear wheels, allowing for smooth and light braking. Even on rainy days, braking is still efficient, so you can ride with confidence.
* The disc brake is mechanical.
Naicisports X1 has a waterproof rating of IP54, so there is will be no issues with the mechanical system even when riding in the rain. Regardless of the season, it can be used all year round, making it ideal for work and school.
Devil is in The Details
Choose Your Color
Advanced Battery System

What's in the box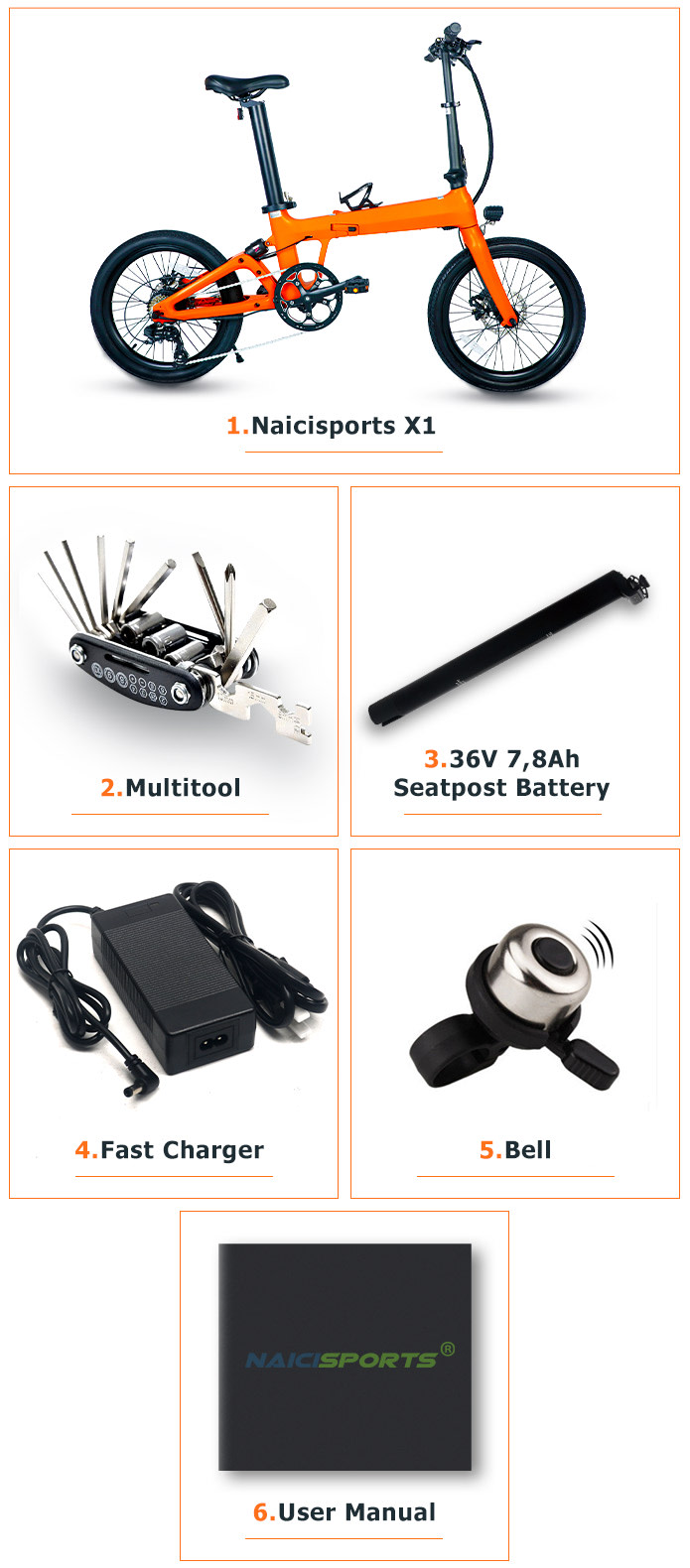 Specification
Our Journey