Naicisports: Showcasing Innovation at the 31st International Bicycle Trade Exhibition-EUROBIKE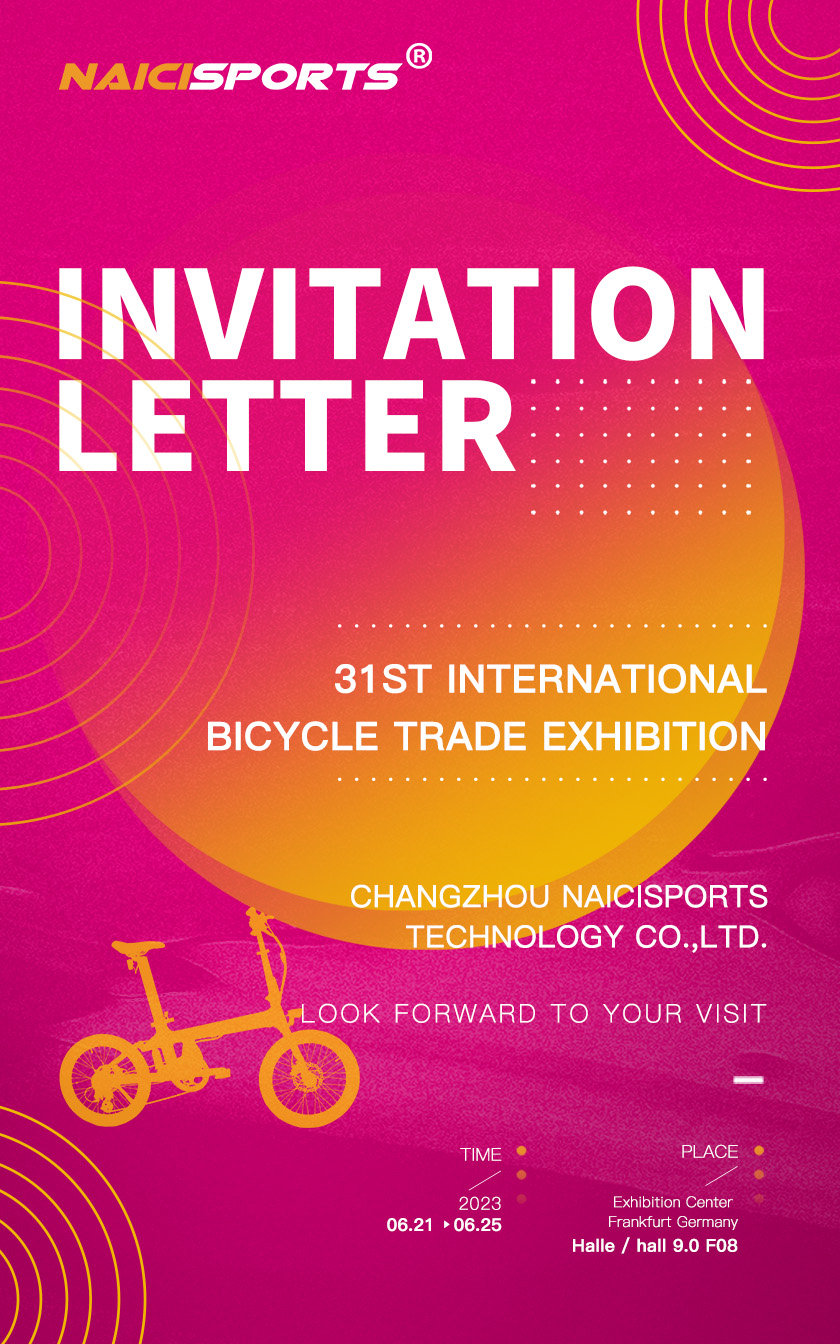 Naicisports: Showcasing Innovation at the 31st International Bicycle Trade Exhibition-EUROBIKE

Join us at the EUROBIKE 2023 Exhibition in Frankfurt, Germany, as Naicisports, a leading manufacturer of high-quality bicycles, presents its latest innovations and cutting-edge designs. From June 21 to 25, 2023, cycling enthusiasts, industry professionals, and bicycle enthusiasts from around the world will gather at the Exhibition Center Frankfurt to witness the most significant cycling event of the year. Naicisports invites you to visit our booth in Hall 9.0F08 to experience the future of cycling firsthand.

With a rich history of producing innovative bicycles that combine performance, comfort, and style, Naicisports has established itself as a trusted name in the cycling industry. This year, we are proud to showcase our latest range of bicycles, designed to meet the evolving needs of cyclists across the globe.

At the EUROBIKE 2023 Exhibition, Naicisports will present an extensive lineup of bicycles that cater to diverse riding styles and preferences. Whether you're a road cyclist seeking aerodynamic efficiency, a mountain biker craving off-road adventure, or a commuter searching for practicality and comfort, Naicisports has the perfect bike for you.

One of the highlights of our exhibition will be the unveiling of our new electric bicycle models. As e-bikes continue to gain popularity, Naicisports has invested significant resources into developing state-of-the-art electric bicycles that deliver exceptional performance and versatility. Our e-bikes combine advanced battery technology, powerful motors, and intelligent control systems to provide an unmatched riding experience.

Visitors to the Naicisports booth will also have the opportunity to explore our range of traditional bicycles. These bikes incorporate advanced materials and engineering techniques to offer optimal strength, stability, and responsiveness. From sleek road bikes to durable mountain bikes, Naicisports has crafted each model with meticulous attention to detail, ensuring that riders can push their limits and achieve their cycling goals.

Furthermore, Naicisports understands the importance of personalized style when it comes to cycling. Our exhibition will feature a customization area where visitors can select from a range of colors, finishes, and accessories to create a truly unique bicycle that reflects their personality and preferences. Our team of experts will be on hand to provide guidance and assist customers in crafting their dream bike.

Naicisports is dedicated to promoting sustainability and environmentally friendly practices within the cycling industry. We believe in the power of bicycles to create a greener future, and we have taken significant steps to reduce our carbon footprint. At EUROBIKE 2023, we will showcase our commitment to sustainability through our eco-friendly manufacturing processes, use of recyclable materials, and support for cycling initiatives that promote a cleaner and healthier planet.

We cordially invite all cycling enthusiasts, industry professionals, and potential customers to visit the Naicisports booth in Hall 9.0F08 at the Exhibition Center Frankfurt during EUROBIKE 2023. Come and experience the latest advancements in bicycle technology, explore our extensive product range, and engage with our passionate team. Naicisports looks forward to connecting with fellow cycling enthusiasts and sharing our vision for the future of cycling. See you at EUROBIKE 2023!